Sun-child dolls
Sun-child dolls are made from natural materials, with a tricot body, stuffed with sheep's wool and dressed in clothes made from cotton, velours, flannel or wool.
Sun-child dolls are multicultural, there are different light and darker shades of skin-tricot and also different hairdos.
There are four basic models in a range that corresponds with the development of the child. The age-indications are not meant to be prescriptive, but are a general suggestion.
Please, pay special attention to the child and choose a suitable doll for him or her. Also for nine-year olds a knotted doll may be a wonderful go-to-sleep doll.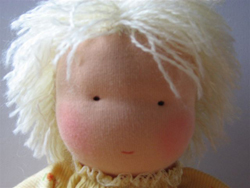 Making a sun-child doll for your own child
During the course all sun-child dolls can be made according to your own wishes. To master all techniques it would be fun to make the complete series, but this is, of course, to be decided upon by yourself.
By order
In our shop you may find a doll according to your wish. Making a doll by order is possible, provided that you observe a term of delivery of at least some weeks. Please contact us through info@hompeltjepompeltje.nl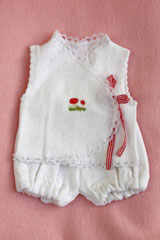 Underwear made by Linda Brinkkemper